BUSINESS 2 BUSINESS SMART MARKETING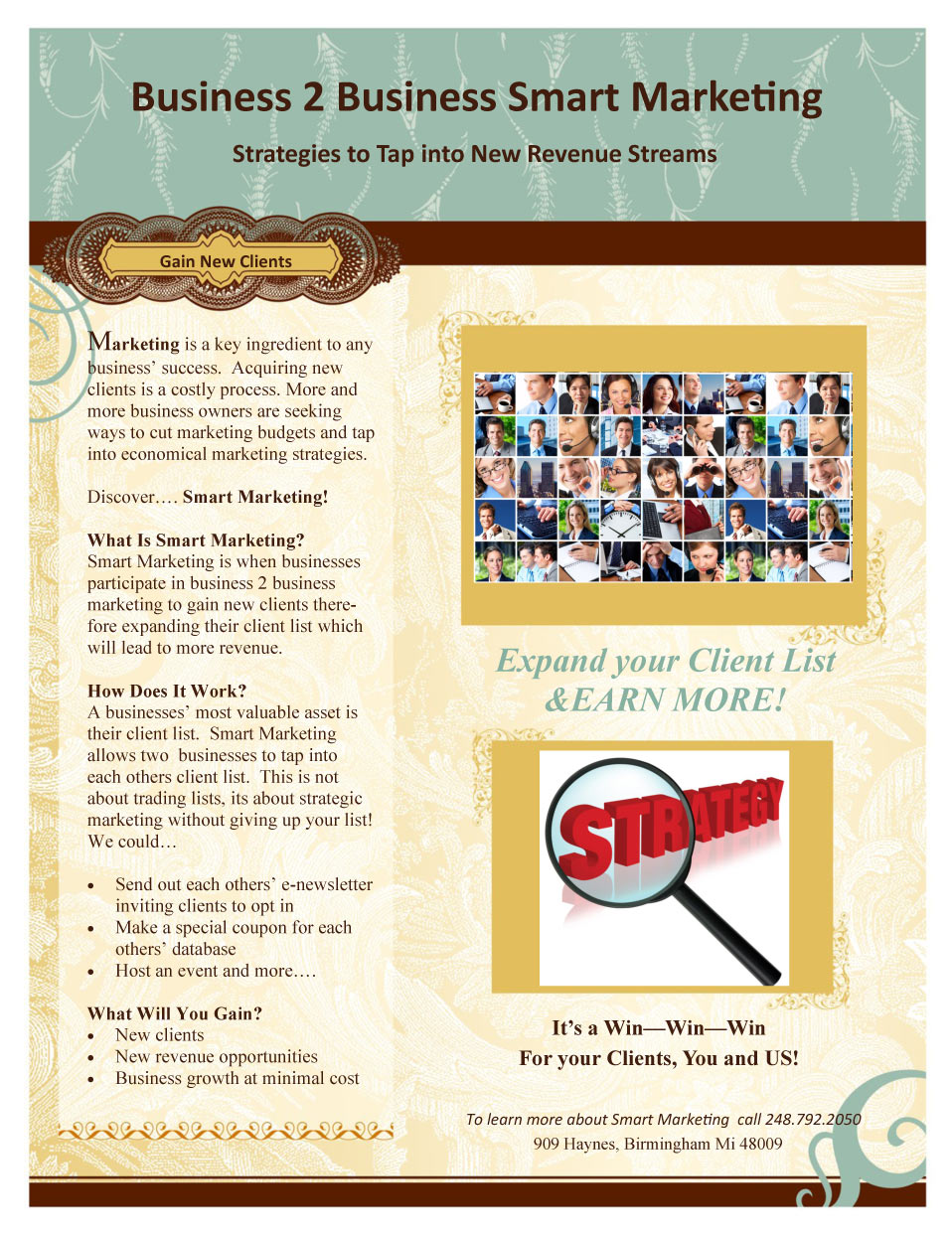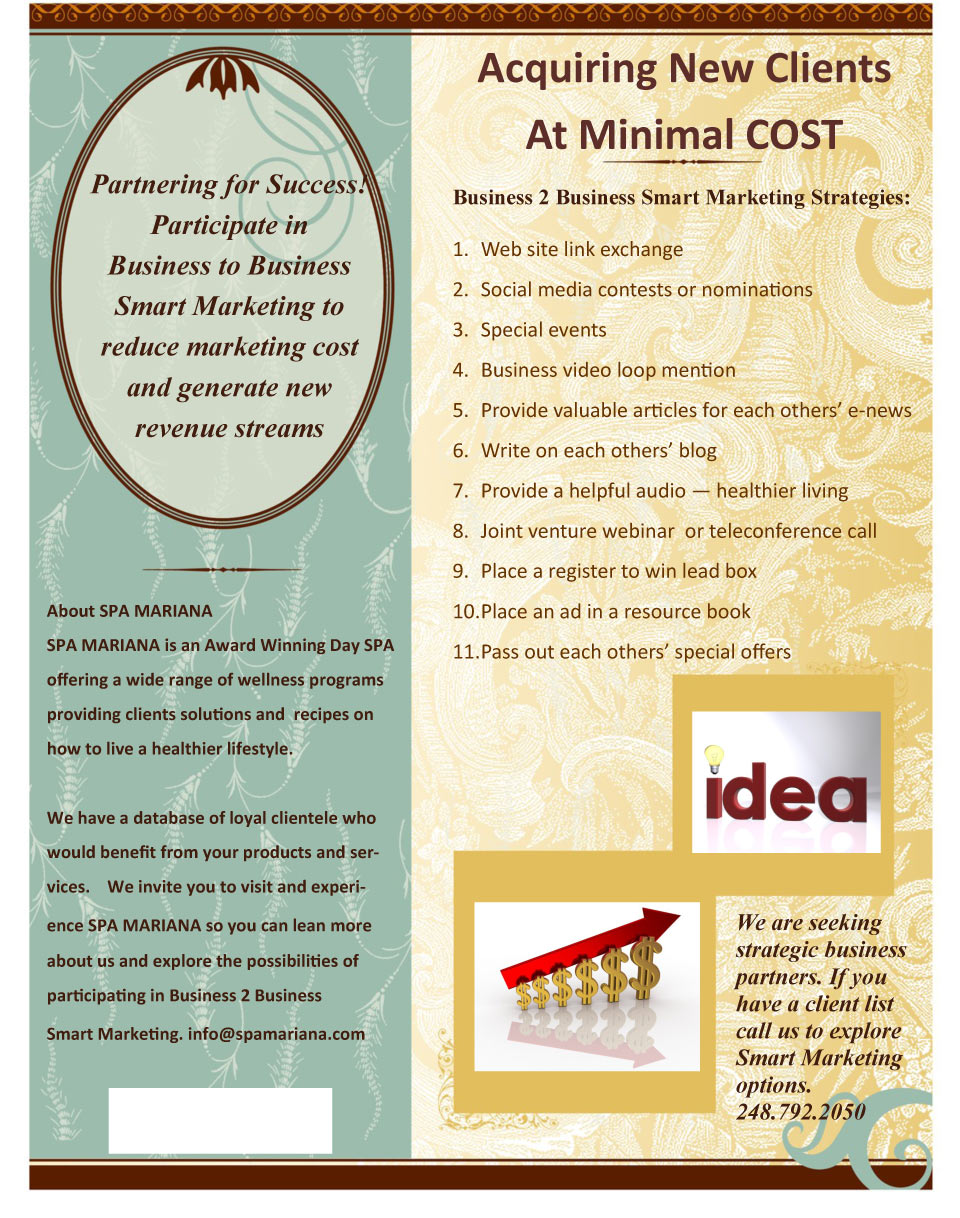 Strategies to Tap into New Revenue Streams
Gain New Clients
Marketing is a key ingredient to any business' success. Acquiring new clients is a costly process. More and more business owners are seeking ways to cut marketing budgets and tap into economical marketing strategies.
Discover…. Smart Marketing!
To learn more about Smart Marketing call 248.792.2050
What Is Smart Marketing?
Smart Marketing is when businesses participate in business 2 business marketing to gain new clients there-fore expanding their client list which will lead to more revenue.
How Does It Work?
A businesses' most valuable asset is their client list. Smart Marketing allows two businesses to tap into each others client list. This is not about trading lists, its about strategic marketing without giving up your list!
We could…
+ Send out each others' e-newsletter inviting clients to opt in
+ Make a special coupon for each others' database
+ Host an event and more….
What Will You Gain?
+ New clients
+ New revenue opportunities
+ Business growth at minimal cost
Expand your Client List & EARN MORE!
It's a Win—Win—Win
For your Clients, You and US!
Partnering for Success!
Acquiring New Clients At Minimal COST
Business 2 Business Smart Marketing Strategies:
+ Web site link exchange
+ Social media contests or nomination
+ Special events
+ Business video loop mention
+ Provide valuable articles for each others' e-news
+ Write on each others' blogv + Provide a helpful audio — healthier living
+ Joint venture webbing or teleconference call
+ Place a register to win lead box
+ Place an ad in a resource book
+ Pass out each others' special offers
To learn more about Smart Marketing call 248.792.2050
About Spa Mariana
Spa Mariana is an Award Winning Day SPA offering a wide range of wellness programs providing clients solutons and recipes on how to live a healthier lifestyle.
We have a database of loyal clientele who would benefit from your products and services. We invite you to visit and experience SPA MARIANA so you can lean more about us and explore the possibilities of participation in Business 2 Business Smart Marketing.
We are seeking strategic business partners. If you have a client list call us to explore Smart Marketing options – 248.792.2050
Levels of partnership
Level One – Customer Appreciation:
Partner with businesses to offer discounts to their clients. Businesses would be asked to put out a lead box, with the understanding that there would be one winner and that everyone will receive something of value (example: day at the spa). They would also be asked to send out an email to their clients/customers using a discount code offering a discounted rate for services during a one month period. If they had a discount to offer in return it would be included in Spa Mariana's monthly eblast.
Level Two – Community Partner
Community Partners with enhanced benefits. The arrangement could include the above but also adds more visibility. Community Partners would also:
+ Be included for a full year in Spa Mariana's referral book.
+ Be included as a link for one full year no Spa Mariana's PARTNERS page. Partners listed would also be required to reciprocate with a link on their website.
+ Be included in all Spa Mariana new membership packages.
+ Would be offered a complimentary massage to be used as a staff incentive or giveaway for clients.
+ Would explore opportunities for team exchanges – for example; yoga provides 25 class pass for the SM team and SM gives 5 massage (equal value) certificates for yoga studio team.
+ Community partners will be highlighted for one month. The chosen month they would be the only business highlighted to maximize their promotion and exposure.
Level Three – Custom Relationships
Additionally, there will be special partners that you will need to make custom arrangements for to reach certain specified groups. For example – working with local hotels to advertise services and potential discounts through concierge referrals.