What is an Herbal Botanical Foot Reflexology Session?
Sit back and enjoy while one of the experienced team members prepares a warm foot soak for you. Utilizing salts from around the world, carefully chosen essential oils and botanicals to create a rejuvenated you. Close your eyes and unwind in one of the comfy chairs as we pamper you from head to toe. Inhale our lavender neckies, sip on refreshing and healing teas, or simply sit back and sip some bubbles!
✓ Walk-ins welcome
✓ Enjoy complimentary tea, signature orange water, mimosa, or our sound infused Kombucha!!
✓ Warm lavendar neckie is provided to enhance relaxation
✓ Charcuterie board * Not included in below pricing
*Vegetarian option available upon request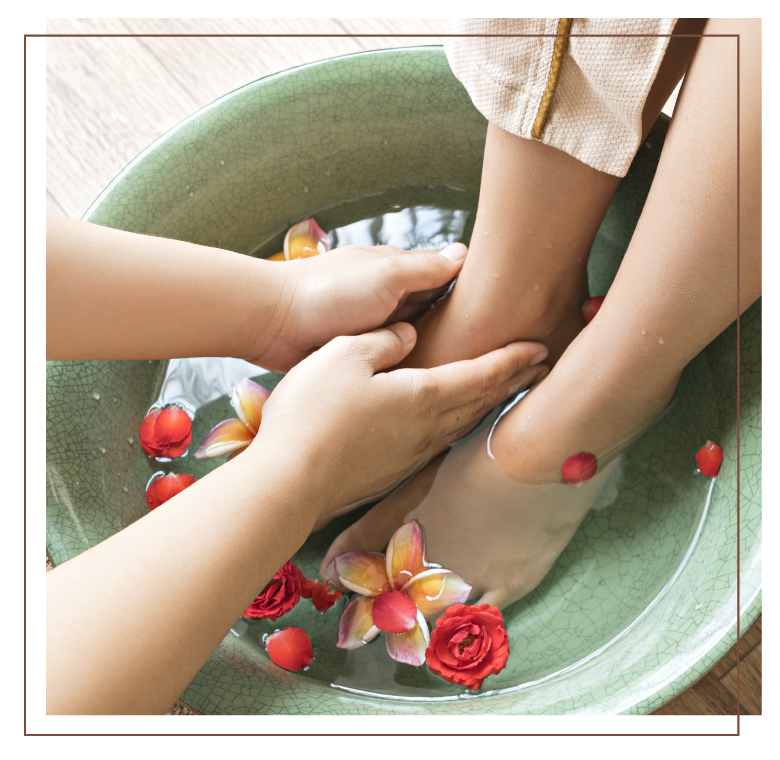 Herbal Botanical Foot Reflexology- NEW!
This foot soak ritual starts with the application of a warm lavender compression wrap and blanket. While we prepare your foot soak, you will indulge in an aromatherapy inhalation to begin your relaxation session. At this time, you have 20 minutes to soak and completely absorb the nutrients and minerals we've provided in your foot soak. You will begin your journey of unwinding to help prepare you for your spa treatments. This is the perfect treatment to soothe your mind.
* Great compliment to any spa treatment
* Perfect for teens
* Included in most our Spa Retreats
* Walk ins welcome
30 minute Foot Soak| $39
Full Body Relaxation Session - NEW!
If you're someone not quite sure about robes, slippers and slipping under the sheets, we ask you to look no further. This is a fully clothed 60-minute treatment reserved with one of the seasoned therapists or bodyworkers. Your experience will begin with a CBD elixir tincture to induce the start of your relaxation session. Following will include a 20-minute hand/foot reflexology, 20-minute neck/shoulder massage, compression and scalp massage. To complete your treatment, we add a Himalayan foot exfoliation and botanical hydrating foot treatment to seal in all the nutrients! This experience will leave you feeling like you just had a full body massage without the work of getting dressed and undressed.
* Upgrade with a Charcuterie board for an additional $25 * Upgrade with CBD remedy oil - $20 for further chill * Perfect for first-time clients who have never had massages before * Wonderful option for teens * Perfect addition to Spa Parties
60 minutes | $89
Promotion Rate *