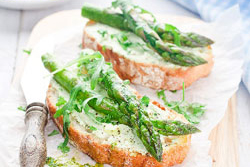 Asparagus Prosciutto Bruschetta
A savory snack
Ingredients
– 10 medium asparagus spears, trimmed to 6-inch lengths
– Extra-virgin olive oil
– Salt and freshly ground pepper
– 10 1/2-inch-thick diagonal slices cut from a large baguette
– 3/4 cup fresh ricotta cheese or 5 ounces Teleme cheese
– 10 thin slices of prosciutto
Heat a grill pan or cast-iron skillet.
Brush the asparagus with oil and season with salt and pepper.
Grill over moderate heat, turning occasionally, until crisp-tender and blackened in spots, about 8 minutes. Transfer to a work surface and halve them crosswise.
Brush the bread slices on both sides with olive oil and grill over moderate heat until golden, about 1 minute per side.
Spread the cheese on the toasts and cover with the prosciutto. Cross 2 asparagus halves on top of each bruschetta, season with pepper, and serve immediately.