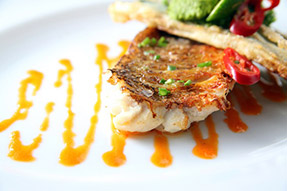 Ingredients
1 1/2 tablespoons butter, softened
1 tablespoon chopped fresh cilantro
1 teaspoon minced seeded jalapeno pepper
1/2 teaspoon grated lime rind
1/4 teaspoon bottled fresh ground ginger (such as Spice World)
3/4 teaspoon salt, divided
4 (6-ounce) red snapper or other firm white fish fillets
1/4 teaspoon black pepper
Cooking spray
Lime wedges (optional)
Combine first 5 ingredien ts in a bowl.
Stir in 1/4-teaspoon salt. Cover and chill.
Heat a large nonstick skillet over medium-high heat.
Sprinkle both sides of fish with the remaining 1/2-teaspoon salt and black pepper.
Coat pan with cooking spray.
Add fish to pan; cook 3 minutes on each side or until fish flakes easily
Place 1 fillet on each of 4 plates, and top each serving with 1 1/2 teaspoons butter mixture.
Serve with lime wedges, if desired.