A delectable Valentine's Day treat!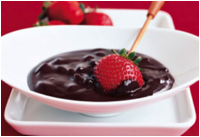 Ingredients
12 ounces of dark chocolate (chips or roughly chopped if from a block)
8 ounces of heavy cream
A pinch of salt
Strawberries (and other fruit selections of choice)
Bottle of your favorite champagne
Directions
Warm the cream over moderate heat until tiny bubbles show and begin to lightly and slowly boil. Add the chocolate and whisk until smooth.
 Immediately transfer to a fondue pot heated at low or with a low flame, or serve straight from the pot.
Arrange strawberries and other fruit choices on a platter or plates around the chocolate pot.
Use a fondue fork, bamboo skewer, seafood fork, or salad fork to dip the fruit pieces into the hot melted cream chocolate mixture. Eat immediately.
Sip on a flute of champagne for an evening of pure indulgence!