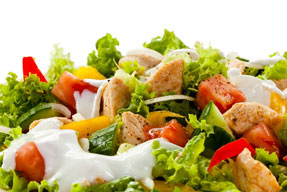 Ingredients
1 cup BBQ Sauce
1 cup Ranch Salad Dressing
2 (10 oz.) package diced cooked chicken, (4 cups)
6 cups mixed salad greens
1 medium red onion, sliced
1 small cucumber, sliced
2 medium red or green bell peppers, sliced
1 1/2 cups shredded cheddar cheese
Combine BBQ Sauce and Ranch dressing.
Reserve 1 1/2 cups for salad.
Toss chicken with remaining 1/2 cup sauce.
Toss together lettuce, onion, cucumber and peppers in large bowl.
Spoon onto 6 salad plates, dividing evenly.
Top each salad with 2/3-cup chicken and 1/4 cup cheese.
Serve with dressing on the side.