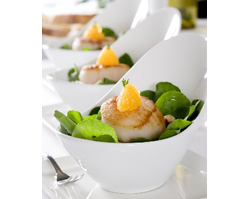 Ingredients
2 teaspoons canola oil
1 1/2 pounds lg sea scallops (about 16)
3/8 teaspoon kosher salt, divided
1/4 teaspoon sugar
1/8 teaspoon freshly ground black pepper
2 slices center-cut bacon
1/2 cup sliced shallots
2 large garlic cloves, thinly sliced
3 tablespoons fat-free, lower-sodium chicken broth
2 (4-ounce) packages trimmed watercress
Heat a large cast-iron skillet over medium-high heat.
Add oil to pan; swirl to coat.
Sprinkle both sides of scallops evenly with 1/4-teaspoon salt, sugar, and pepper.
Add scallops to pan; cook 3 minutes or until done, turning after 2 minutes. Remove from pan; keep warm.
Cook bacon in a large nonstick skillet over medium heat until crisp. Remove bacon from pan; crumble.