Get Your Skin Fall/Winter-Ready!
November 3, 2015
A Special Thank You To Our Incredible Sponsors
November 12, 2015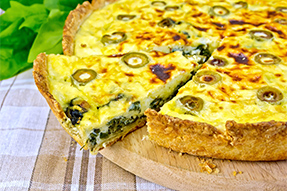 Ingredients
Crust:
2 cups cooked quinoa, chilled
1/8 teaspoon freshly ground black pepper
1 large egg, beaten
Cooking spray
Filling:
1-teaspoon canola oil
1/2 onion, thinly sliced
1 (5-ounce) bag baby spinach
1/2 cup 1% low-fat milk
1/2-teaspoon kosher salt
1/4 teaspoon freshly ground black pepper
1/4 teaspoon crushed red pepper
4 large eggs
2 large egg whites
1.5 ounces feta cheese, crumbled
Directions
For the crust, preheat oven to 375 degrees.
Combine quinoa, pepper, and egg in a bowl, stirring well. Press mixture into bottom and up sides of a 9-inch pie plate coated with cooking spray. Bake at 375 degrees for 20 minutes; cool.
For the filling, heat a nonstick skillet over medium heat. Add oil and onion; saute 3 minutes. Add spinach; saute 3 minutes. Remove from heat; cool.
Combine milk and next 5 ingredients in a bowl; stir with a whisk. Arrange spinach mixture in crust; pour egg mixture over spinach. Sprinkle with feta. Bake at 375 degrees for 35 minutes. Let stand 5 minutes; cut into 4 wedges.
(Recipe found at myrecipes.com)